Microbrewery Applications
ES & SVS ELECTRIC STEAM BOILERS FOR THE BREWING INDUSTRY
SUSSMAN ELECTRIC BOILERS are the perfect source of high quality saturated steam for brewpub and micro-brewery brewing systems.
These versatile generators are unique for your combi/kettle or tank brewing systems requiring low pressure steam, typically in the 11-12.5 PSIG range. Each unit is complete with automatic features including pressure and liquid level controllers, ASME Code pressure vessel and safety valve and are fully tested under power. Each boiler must pass Sussman's rigid quality control inspection before it is shipped.
Boilers are available in any combination voltage/phase/hertz. All systems available with matched Condensate Receiver Systems, inclusive of return tank, motor/pump and heavy duty vacuum breaker. Boilers trimmed at 15, 100 or 150PSIG.
Sussman offers all size electric boilers. If you don't see the size you need, please call us at 1-800-238-3535 for application assistance.
ES & SVS SERIES FEATURES:
Safe, efficient steam - no on-site products of combustion.
Small in size - they can be located almost anywhere.
Surprisingly affordable steam source to produce "quality" beer at the tap.
Dependable heat for your combi/kettle or tank brewing systems.
Easy and quick installation, they require only a water feed connection and electrical hookup.
Built to Sect. I of ASME Boiler and Pressure Vessel Codes
National Board registered
UL, cUL Listed
ASME CSD-1 compliant
Fully Insulated Vessel
Stainless Steel Heating Elements
Automatic Operating Pressure Control
Manual Reset High Limit Pressure Control
120 VAC Control Circuit
NEMA 1 Louvered Control Panel
Blowdown/Drain Valves
Liquid Level Gauge Glass Assembly
Boiler Operating Mode Indicator Lights
<<Typical System Arrangement>>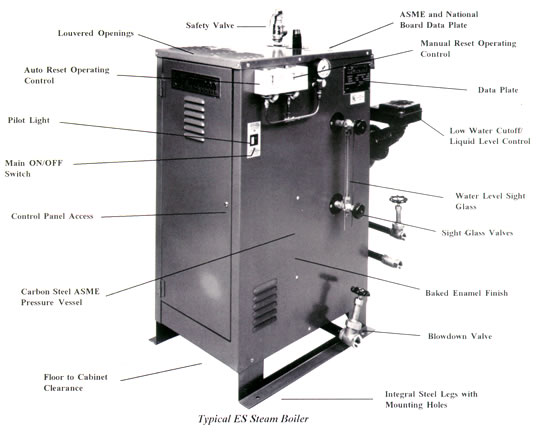 Selected Guidelines for Sizing:
| BARRELS | BTU | MODEL | KW |
| --- | --- | --- | --- |
| 3.5 | 133,000 | ES48 | 48 |
| 7 | 196,000 | ES72 | 72 |
| 10 | 294,000 | ES100 | 108 |
| 14 | 388,000 | ES135 | 144 |
| 21 | 690,000 | SVS240 | 240 |
| 25 | 865,000 | SVS300 | 300 |