MBA Electric Steam Generator Specifications
MBA Electric Steam Generator Specifications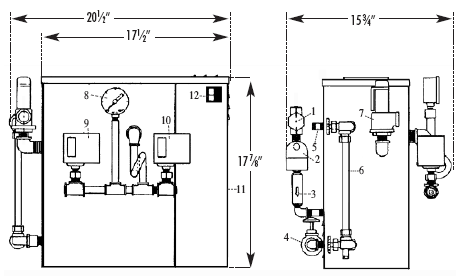 All units are physically identical and have a packed shipping weight of l25 lbs.
Units are trimmed at 100PSIG as standard. 15PSIG trim also available.
Incoming water line pressure must be 10 PSIG greater than generator operating pressure. If not, a motor/pump must be used. Specify Sussman MBA38002A high pressure water feed motor/pump system.
When ordering specify Model No., KW, Volts/PH and motor/pump if required.
Water Connection is 1/4 NPT. Steam outlet is 1/2 NPT.
| MODEL | KW | VOLTS | PH | AMPS | PPH |
| --- | --- | --- | --- | --- | --- |
| MBA3 | 3 | 120, 208, 240 | 1 | 25, 15, 13 | 9 |
| MBA6 | 6 | 208, 240, 480 | 3 | 17, 15, 8 | 18 |
| MBA9 | 9 | 208, 240, 480 | 3 | 25, 22, 11 | 27 |
| MBA12 | 12 | 208, 240, 480 | 3 | 34, 29, 15 | 36 |
| MBA18 | 18 | 208, 240, 480 | 3 | 50, 44, 22 | 54 |
| MBA20 | 20 | 208, 240, 480 | 3 | 56, 49, 25 | 60 |
| SYMBOL | DESCRIPTION |
| --- | --- |
| 1 | STRAINER |
| 2 | WATER SOLENOID |
| 3 | CHECK VALVE |
| 4 | DRAIN VALVE |
| 5 | STEAM OUTLET |
| 6 | GAUGE GLASS ASSEMBLY |
| 7 | SAFETY VALVE |
| 8 | PRESSURE GAUGE |
| 9 | HI-LIMIT PRESSURE CONTROL |
| 10 | OPERATING PRESSURE CONTROL |
| 11 | ACCESS PANEL |
| 12 | ON/OFF SWITCH |